MobilityData and USF partner to improve real-time transit information
MobilityData and the Center for Urban Transportation Research (CUTR) at the University of South Florida (USF) are honored to offer an open-source Canonical Validator for the Realtime component of the General Transit Feed Specification (GTFS).
April 20th, 2022, Montreal (QC, CA) & Tampa (FL, US) — MobilityData and the Center for Urban Transportation Research at the University of South Florida are honored to offer a validator for GTFS Realtime, the counterpart of the widely used General Transit Feed Specification (GTFS). This data format is used by public transit agencies to share real-time traveler information, such as time predictions, vehicle locations, and service alerts with popular mobile apps.

"After working on this validator for the last 7 years, we are ready to partner with an organization that has the capabilities to build a world-wide community around this tool. Originally starting as a 2015 Google Summer of Code project, in 2019 we developed this tool into a full-fledged prototype under  the research grant "Overcoming Barriers for the Wide-scale Adoption of Standardized Real-time Transit Information" from the National Institute for Transportation and Communities (NITC)," explained Sean Barbeau, Principal Mobile Software Architect for R&D at University of South Florida. He continued, "MobilityData and its global community will help maintain and further improve the validator, with a focus on growing the number of deployments that improve the quality of public transit information all over the world."
Direct impact on society
Real-time transit information has many benefits to transit riders and agencies, including shorter perceived and actual wait times, a lower learning curve for new riders, an increased feeling of safety, and increased ridership. While many agencies are sharing real-time arrival predictions and vehicle positions with apps like Google Maps, Apple Maps, and the Transit App, data quality is of equal importance to data availability. In one study, 9% of surveyed riders said that they took the bus less often due to errors in real-time information they experienced.
The GTFS Realtime validator helps transit agencies catch problems early, before they reach riders. This open-source validator contains great features, such as:
Over 50 rules that check for common GTFS Realtime data problems
A library component for easy integration into existing software applications
A command-line interface for easy integration into existing large scale data pipelines with batch validation of feeds
A web application, allowing users to validate feeds by simply entering URLs and seeing the results in an easy-to-read interface.
A Docker configuration for easy deployment
"In our mission to improve data quality and encourage the use of standardized data, we are proud to host and maintain the GTFS Realtime Validator moving forward, in collaboration with the GTFS community. It is a great addition to our existing tools and we are proud to see its impact on travelers," added Isabelle de Robert, Product Manager, High Quality Data at MobilityData.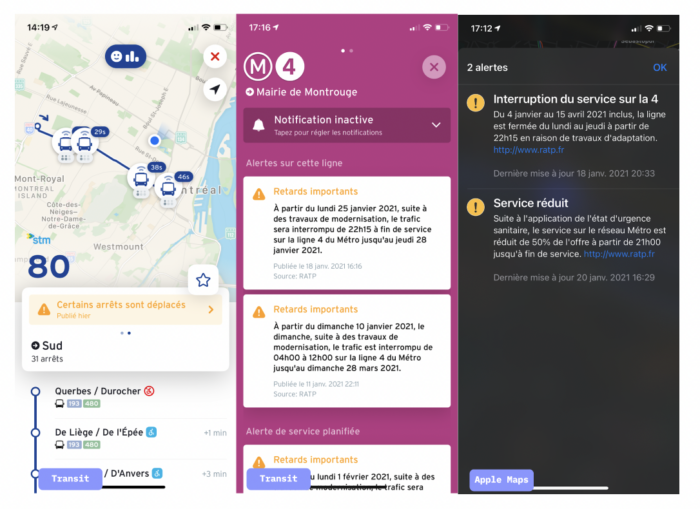 MobilityData's goal is to improve passenger information. Adding a real-time component to complement existing GTFS data allows users to get up-to-date arrival and departure times and advanced notification of service delays, making it easier and more efficient to plan a trip. Real-time information has additional benefits to riders, such as a shorter perceived wait time and an increased feeling of safety.
The GTFS Realtime validator is already used by the Le Point d'Accès National aux données de transport (French national access point to transport data) and the California Integrated Travel Project (Cal-ITP) to improve transit data quality for all transit agencies in France and the state of California, respectively. Everyone is welcome to share ideas for new rules and features on the GTFS Realtime Validator by opening an issue on the repository.
What is GTFS Realtime?
GTFS Realtime is a component to GTFS, an open data format for public transportation schedules and associated geographic information. GTFS Realtime was designed around ease of implementation, GTFS interoperability and a focus on passenger information.
About MobilityData
Incubated at the Rocky Mountain Institute (RMI) in 2015, MobilityData became a Canadian non-profit in 2019 with the mission to improve travelers' information. Today, with over 20 employees worldwide, MobilityData enlists and enables international mobility stakeholders such as transport agencies, shared mobility operators, software vendors, mobility apps, and cities to standardize and expand data formats such as GTFS and GBFS for public transport and shared mobility. MobilityData acts as an industry facilitator, creating opportunities for strengthened interoperability while assisting the industry's rapid transformation through training and tools. Learn more on mobilitydata.org.
About CUTR
In 1988, the Florida Legislature created the Center for Urban Transportation Research at the University of South Florida (§334.065, Florida Statutes). CUTR is a part of the College of Engineering at the University of South Florida, in Tampa, Florida. Since its inception, CUTR has become internationally recognized in transportation research, education and technology transfer/training/outreach center, with a focus on producing products and people. Our work supports transportation agencies, the transportation profession and community, policy makers, and the public. CUTR provides high quality, objective expertise in the form of insightful research, comprehensive training and education, effective technical assistance and in-depth policy analysis, that translates directly into benefits for CUTR's project sponsors. CUTR's faculty of full-time researchers and students combine academic knowledge and extensive "real world" experience in developing innovative, implementable solutions for all modes of transportation. The multidisciplinary research faculty includes experts in engineering, planning, computer science, economics, public policy, public health, and geography. CUTR logs nearly $20 million per year in expenditures through contracts and grants to support its research, education, training and technical assistance missions.
For more information
Elisabeth Poirier-Defoy
Deputy Executive Director and Director of Communication
elisabeth@mobilitydata.org