MobilityData presents The 2022 International Mobility Data Summit 
For the first time, a 2-day event dedicated solely to mobility through the lens of data will be held in June 2022 in Montreal, Quebec, Canada.
February 3rd, 2022, Montreal, Quebec, Canada — MobilityData is proud to present the first and only event dedicated to mobility data and its ecosystem on June 6th and 7th, 2022 in Montreal, Canada. Keynotes, panels, and working sessions are part of the program for our international attendees.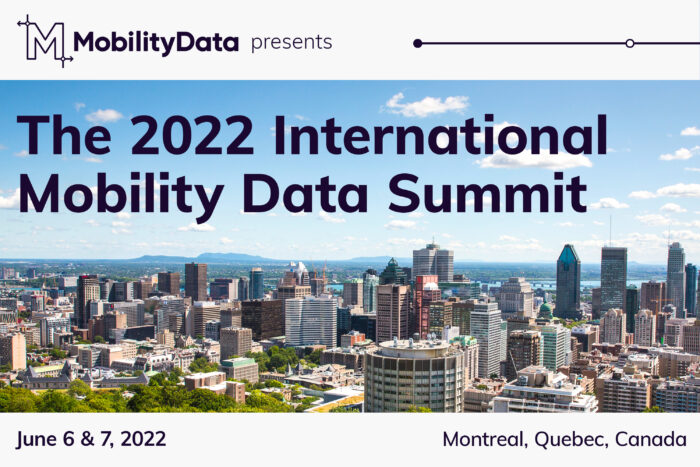 Why a new event? Mobility data and their related standardization efforts are often discussed in conferences, but are never the main focus. Taking into account how essential they are to build a sustainable future for mobility, MobilityData has decided to host The 2022 International Mobility Data Summit.
Various stakeholders from the industry were looking to deepen the subject of mobility data, their standards, and the challenges around data sharing. Acting upon our role of the community facilitator, we have decided to build an international event as the only forum with multiple themes for the international mobility community to come together.

Elisabeth Poirier-Defoy, Deputy Executive Director of MobilityData
A program dedicated to building a thriving ecosystem
The mobility community will be influencing the content of the Summit either by submitting panels' topics and/or guiding MobilityData's search for experts to answer their most pressing questions. They will tackle subjects such as the importance of standardized data, its privacy, its accessibility, and how to leverage high quality open data.
We are designing a program that will bring value to people interacting with mobility data and standards on a frequent basis: transit agencies, shared mobility providers, data consumers, policy-makers, decision-makers, cities, standardization experts, etc. Additionally, networking will take a big place in this two-day event and a gala dinner will close the 2022 International Mobility Data Summit.

Tu-Tho Thai, Director of Partnerships & Events at MobilityData.
Sponsorship opportunities are now available, and the community is encouraged to support the creation of the very first International Mobility Data Summit, hosted by the non-profit organization MobilityData.
The event will be held in Europe next year and then in various cities, building on the strength of the mobility industry year after year. Calls for other host cities will be released soon.
About MobilityData
MobilityData began in 2015 as a Rocky Mountain Institute project with the mission to improve travelers' information. The project's team extended its mission and reach by registering as a Canadian non-profit in 2019 and a French association one in 2021. With over 20 employees worldwide, MobilityData brings together and supports international mobility stakeholders such as transport agencies, software vendors, mobility apps, and cities to standardize and expand data formats such as GTFS and GBFS for public transport and shared mobility. MobilityData acts as an industry facilitator, creating opportunities for strengthened interoperability while assisting the industry's rapid transformation through training and tools. Learn more on mobilitydata.org.
Elisabeth Poirier-Defoy
Deputy Executive Director and Head of Growth
elisabeth@mobilitydata.org