Open Source Community Facilitator, Shared Mobility
Montreal, QC (Remote)
Location: Remote – We work on Eastern Time and host quarterly meetings in Montreal. Our product development staff is currently located across Quebec, Ontario, and New York State.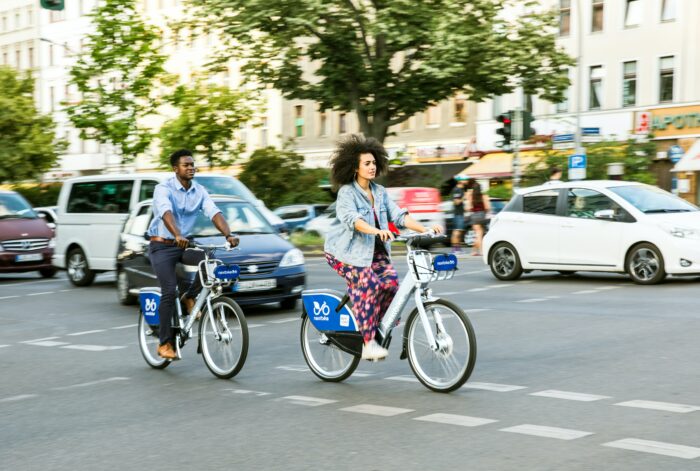 What We Do 
Travelers want directions they can trust. Reliable directions need high-quality data. MobilityData develops tools that ensure data quality and consistency to help travelers find, understand, and use transportation services everywhere they go. MobilityData works to increase the completeness, accuracy, and quality of data formats and advocates for the adoption of standardized formats so that both data producers and data consumers can provide exhaustive and seamless mobility information, anytime, anywhere.
About the Role
The Open Source Community Facilitator, Shared Mobility, is responsible for the ongoing development and promotion of the GBFS data specification within the shared mobility industry.
Desired Qualities
Experience working to organize communities of stakeholders in the digital space to identify needs and find collaborative solutions.
Familiarity with data modeling. Having produced or consumed GBFS (General Bikeshare Feed Specification), GTFS (General Transit Feed Specification) or MDS (Mobility Data Specification) would be a bonus!.
In depth knowledge of the shared mobility industry, its business models and current state of practice.
Familiarity with trip planning and MaaS mobile applications.
Ability to explain technical concepts to non-technical audiences.
Familiarity with software versioning and version control.
What You Will Do 
Research and stay up to date on shared mobility services, business models and current state of practice.
Work with data producers and consumers to develop consensus based solutions in response to industry needs.
Facilitate ​​conversations on specification development, governance and scope.
Develop strategies to increase the adoption and use of shared mobility data.
Develop documentation and communicate technical requirements to technical and non-technical audiences.
Work with our team of developers to help them build tools for data validation and quality improvement.
Who You Are 
You're interested in shared mobility, alternative transportation, bike lanes and city stuff.
You understand the role of data and its usage in the transportation industry.
You're interested in urban planning and public policy.
Believe in open source tools, standards and open APIs.
Adaptable. You enjoy unfamiliar problems. You're happy to learn new skills.
Collaborative. You can work effectively on your own and as part of a team of stakeholders.
Personable. You like interpersonal interactions and you understand others' needs.
You're fluent in English, and comfortable communicating with our international stakeholders.
Environmentally conscious. You're interested in working on solutions to help people become less reliant on cars.
Would Be Great If 
➔ You speak a lot of languages. Bonjour? Hallo? Ola? こんにちは?
➔ You have work experience in the shared mobility sector.
➔ You already have experience with mobility data standards and/or GitHub.
➔ You've worked with APIs and mobile applications.
➔ You know your way around a GBFS dataset.
Keep in mind that these are not requirements. If you mostly recognize yourself in the section Who You Are, we strongly encourage you to apply.
What You Can Expect 
➔ You will work with an open-minded and inclusive team that values diversity.
➔ You will be paid based on your experience and motivation. 
➔ You will enjoy 4 weeks of vacation per year.
➔ You will manage your own working schedule.
➔ Employer sponsored healthcare.
Apply by email with the subject «Open Source Facilitator» interviews to start the week of May 9th. Open until filled. → jobs@mobilitydata.org