MobilityData is accelerating the standardization of on-demand transportation with the GOFS project
The Canadian non-profit organization has convened an international working group of 29 stakeholders to drive the General On-Demand Feed Specification (GOFS) project.
June 15, 2021, Montreal, Quebec, Canada — Responding to the needs expressed by various stakeholders in the mobility industry, MobilityData is leading a working group to standardize the representation of on-demand services and to set guidelines to manage rider-facing transactional data. The GOFS project enables a wide range of use cases, the most important of which is to improve trip planning in mobility applications. The focus of the project is to provide improved information for travelers. In this initial phase, four main features are being prioritized: service discoverability, service description, real-time service description, and booking (via deep linking) along with accurate pricing.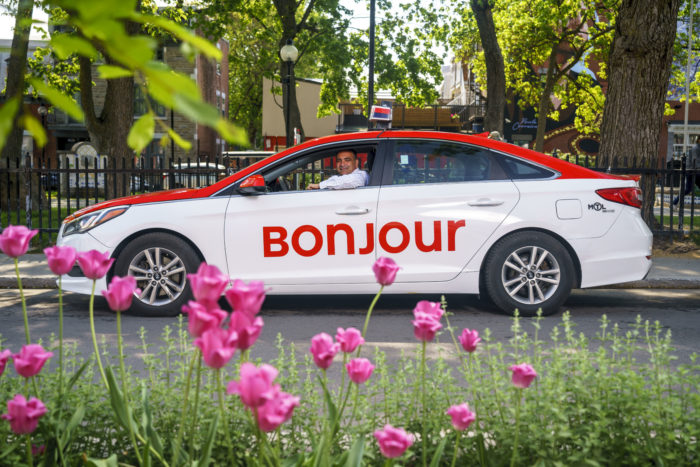 The GOFS project aims to extend the General Transit Feed Specification (GTFS) to include on-demand capabilities. To that end, alongside newly developed functionalities, the existing proposals listed below will be used for the use cases of the GOFS project. As the GOFS project evolves beyond the specification drafting phase, the list may evolve as well:
GTFS-Flex v2
GTFS-FareData
GTFS-VehicleCategories
GTFS-RiderCategories
Files from the GTFS-Capabilities and GTFS-Eligibilities project
MobilityData and the working group will work to accelerate the adoption of these proposals in their current form, or with non-breaking additions. If an official GTFS extension is not possible, the on-demand specification will be forked as a standalone specification.
"We are honored to be launching a working group composed of experts and key stakeholders," explains Omar Kabbani, Project Manager of the GOFS working group, "spearheading an accelerated pace of development for GOFS demonstrates our ability to address the pressing needs of the community. As a working group, we are combining our academic and industry expertise to deliver a practical solution that empowers the industry, accelerates innovation – and improves the experience for riders and service operators."
An international and committed group
The group of 29 founding stakeholders from three different continents is driving the development of a "minimum viable spec" to demonstrate the real-life use cases of the on-demand specification. The working group is composed of organizations producing and using such data, and third parties who are eager to see GOFS be developed and adopted.
CALACT (CA, USA)
CAL-ITP (CA, USA)
Central Florida Regional Transportation Authority (Lynx) (FL, USA)
Commercial Passengers Vehicles Victoria (VIC, Australia)
Community Transportation Association of America (CTAA) (DC, USA)
DC Department of For-Hire Vehicles (DC, USA)
DemandTrans Solutions (IL, USA)
enrouteQ (Gothenburg, SWE)
exo (Qc, Canada)
First Transit (OH, USA)
Full Path (OR, USA)
Google (CA, USA)
King County Licensing (WA, USA)
Le.taxi/beta.gouv/DINUM (Paris, France)
Minnesota Department of Transportation (MN, USA)
Montreal Taxi Bureau (QC, Canada)
Oregon Department of Transportation (OR, USA)
RideCo (ON, Canada)
San Francisco Municipal Transportation Agency – SFMTA (CA, USA)
Santa Cruz Metro (CA, USA)
Shared Use Mobility Center (IL, USA)
Texas A&M Transportation Institute (TX, USA)
Transit (QC, Canada)
Transport for West Midlands (UK)
TransSight (CA, USA)
Trillium (OR, USA)
University of Washington – Taskar Center for Accessible Technology (WA, USA)
Uber (CA, USA)
U.S. Department of Transportation (DC, USA)
U.S. Department of Transportation Federal Transit Administration (DC, USA)
For a period of six months, MobilityData and the working group will concentrate on standardizing the fundamental components of on-demand transportation. Afterwards, the working group will assess the needs and scope for a second phase of the extension and new stakeholders will be able to join the project at that time. For more information, reach out to gofs-wg@mobilitydata.org.
About MobilityData
Incubated at RMI (formerly Rocky Mountain Institute) in 2015, MobilityData became a Canadian non-profit in 2019 with the mission to improve travelers' information. Today with over 20 employees worldwide, MobilityData enlists and enables international mobility stakeholders such as transport agencies, software vendors, mobility apps, and cities to standardize and expand data formats such as GTFS and GBFS for public transport and shared mobility. MobilityData acts as an industry facilitator, creating opportunities for strengthened interoperability while assisting the industry's rapid transformation through training and tools. Learn more on mobilitydata.org.
-30-
Elisabeth Poirier-Defoy
Deputy Executive Director, Academy and Communication
elisabeth@mobilitydata.org